BritishCarAndDriver dot com!
...it's what I drive and what I am.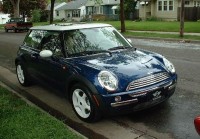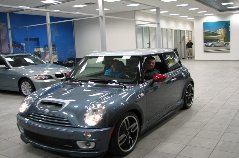 Alice was my MINI Cooper, but now belongs to Holly.
He really is quite an excellent ride and has provided many hours of good, clean fun. Alice was built in April, and was delivered to my local dealership, Motorwerks MINI, in Edina, MN in May 2004.

Recently, his partner-in-arms, Henry, joined the fold. Henry is is number 1168 of 2000 limited-edition MINI Cooper S John Cooper Works GP model, and is a little more "muscular" than his older brother.

We are all part of the MINI-sota Motoring Society where we join many of our friends for all sorts of events; driving round the lakes, going to the drive-in, and even welcoming our cousins from out of town when they come to visit.
In case you're interested in what I do when I'm not out galivanting in Henry, here is a link to my old homepage.